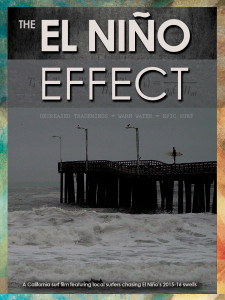 As you've probably heard by now we've officially released our new California surf film, The El Niño Effect.
The film is available for free on YouTube, and you can read a review of the film at SurferToday:
In the winter 2015/2016, the El Niño storms slammed the West Coast of USA. As a result, the Pacific Ocean became, once again, a joyful playground for local surfers.

Independent surf film director Brian Milne got the idea for The El Niño Effect after suffering a labral tear in his shoulder while surfing one of biggest swells on the Central Coast late last year.

Sidelined for the next few months, Milne had nothing better to do on the weekends than sitting on the beach and film what turned out to be the best surf he has seen in almost 40 years in California…

Enter:  El Niño Effect.

The El Niño Effect, a California Surf Film, also features original music from local, up-and-coming bands from California, and is free to watch.

Fortunately, there are still people like Brian Milne in the surfing world. They're the ones who truly spread the stoke.