Welcome to the Chasing Surf Podcast. Today's episode is actually our first, and it came about by happenstance, when we ran into our friend Miles Doughty from Slightly Stoopid at the Cali Roots Festival in Monterey last year.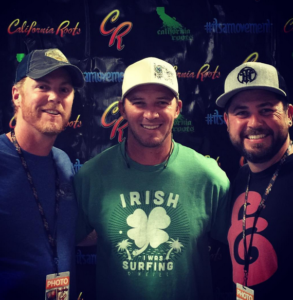 I'd talked to Miles a year earlier about Stoopid's work with Surfrider following the oil spill at Refugio, so this time around I just threw my iPhone on the table and recorded Miles, my buddy Ryan and I shooting the shit about surfing, life on the road and some of the sustainability projects Stoopid has been working on.
In this short, 15-minute conversation, Miles (in his "Irish I Was Surfing" T-shirt) talked about everything from Trump's momentum (he called it back in May!) to the importance of beach cleanups.
Again, this isn't studio quality by any means, but it was nice to have an open conversation with one of the founders of one of our favorite bands, just minutes before they went on stage and rocked Cali Roots.
When time allows we plan to have more interviews with the bands, surfers and shapers that influence our surf culture here in California, and will continue to bring those to you as they surface.
In the meantime, enjoy our conversation with Miles of Slightly Stoopid.
Stay stoked, and we'll see you in the water!
Podcast: Play in new window | Download